History
Ross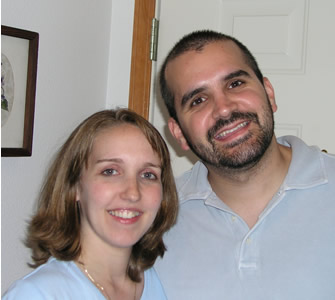 Caroline gave birth to Ross at Bess Kaiser Hospital on N. Gantenbein in Portland on January 23, 1972. Ross was an easy birth and came home in 2 1/2 days to our home at 3843 SE 41st. We moved to 7707 SE Dolinda when Ross was five years old.
He attended kindergarten through the 6th grade at Bilquist Elementary, and the 7th and 8th grade at McLoughlin Junior High. He graduated from Rex Putnam High School after spending all four years there in 1990. He was the star saxophone player in the high school band all four years and won the state competition all four years of high school. He attended the University of Oregon and after a five-year program in music, graduated with a BMus (saxophone performance).
Ross started playing sax professionally at age 16 with the "Border Patrol" and has played with numerous groups since to include the "Cherry Poppin' Daddies" and the group he is currently with, "Satin Love".
Ross love to "game" on computers and hosts LAN parties and attends other gamer get-togethers. He has worked primarily with computers or computer related positions since leaving college. He started with Egghead Computers, worked in technical support positions with GST Telecommunications, purchased by Time Warner, the TEK Internet Business Solutions and in now Network Administrator for Criterion Carpets located in the Clackamas area and supports the computer network for all of their various outlets.
Heather
Heather Jamie Gold was born to Chuck and Sheri Gold at Columbia Hospital on July 14, 1973 in Pittsburgh, PA.
Her family moved to Portland, OR where she attended kindergarten through 5th grade at Hayhurst Elementary, 6th through 8th grade at Rober Gray Middle School, and 9th through 12th grade at Wilson High School. She attended Portland State University and majored in Marketing, and graduated in June of 1996. Her first job during and after college was with Specialty Marketing, which she left to go to work for Egghead, where she met Ross. She ultimately went to work at Nationwide Insurance as a Claims Adjuster, but now she is pretty much a full-time mom and homemaker.
Heather likes to scrapbook and read books.
New Family
Ross and Heather were married at Lakeside Gardens on August 30, 1998 and honeymooned in Cancún, Mexico. They began their married lives in a Tualatin apartment, and bought their first home in July of 2001 in Beaverton where they still live.
Austin Gabriel was born on June 25, 2002 at St. Vincent's Hospital, in Oregon. He was our first grandson! And on January 2, 2005, Sydney Caroline, our fourth grand daughter, was born at Meridian Park Hospital in Tualatin, OR.
Ross still plays quite a bit (especially in the summer) with "Satin Love" out of Eugene. Heather works occasionally for a landscaper, a friend fo Ross', doing estimating. Their lives revolve in a great part around Austin.

.