History
Robin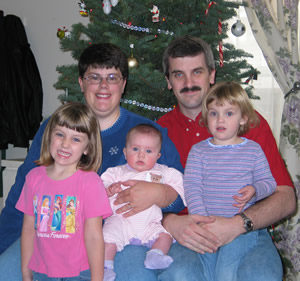 On November 14, 1966, a cold fall night, in Rome, NY, Robin Ames Warren was born. His mom, Caroline and I were stationed at Griffiss AFB in Rome. Robin was a New Yorker for only about 3 months when I was discharged. We had our belongings shipped to Oregon and we travelled home by car. Robin went to kindergarten and grades 1 through 5 at Creston Elementary school in southeast Portland. We then moved to the Milwaukie area where he attended 6th grade at Bilquist Elementary, 7th and 8th at McLoughlin Middle School and went through Putnam High school. He graduated from Portland State University with a B. S. in Biology in 1989. After working at Oregon Health Science University in several different jobs, he entered a PhD program and earned his PhD in Cell Biology in 1998.
Mary
Mary Katherine Stegemeyer was born in Ukiah California on March 13, 1969. She graduated from Rex Putnam in 1987, and got her Bachelor's degree from Portland State University in Administration of Justice, 1992. She worked in Wenatchee WA as a Loss Prevention Manager for JCPenney (July 92-Oct 94), and later moved back home to Milwaukie OR where she continued being a Loss Prevention Manager at Clackamas Town Center JCPenney. (Nov 94 - Mar 98).
New Family
Robin and Mary were married October 19, 1996 and they lived in an apartment near Clackamas Town Center (southeast of Portland). Their first daughter, Erin Rae Warren, was born January 31, 1998 in Portland (Sunnyside Kaiser) and after a short time, Robin accepted a position to do his post-doctorate at Thomas Jefferson University in Philadelphia (moved there at the beginning of March, 1998). Their second daughter, Katherine Rose Warren, was born August 23, 2000 at (Frankford Torresdale Hospital) in NE Philadelphia. Shortly after her birth and about 3 years after accepting his post-doctorate position, the Robin Warrens moved to Oceanside, CA (Oct 2000), near where Robin had accepted a position in the Informatics Department at ISIS Pharmaceuticals (http://www.isispharm.com).After only a year or so of apartment living, Robin and Mary bought their first home in Temecula, CA (January 2002), , where they are currently living and where their third daughter, Megan Renee Warren was born on August 13, 2003. Robin is still happily employed by ISIS Pharmaceuticals and Mary is a stay-at-home mom, president of PALS preschool, and very involved with the local Moms Club.