History
Ricky was born on his grandparents (Pike) anniversary, March 10, 1968, in Eustis, Florida. Ricky then moved to Greensboro, Georgia in 1969. His dad, Richard, worked for the U.S. Forest Service, so Ricky lived in numerous places. From Georgia he moved to Crockett, Texas in December of 1970, to Cleveland, Texas in 1974, to San Augustine, Texas in 1978, and in 1982 to Lufkin, Texas, and his last move was to Fort Worth, Texas in 1993. So I guess you would say that Ricky has been a Texan most of his life.
Ricky went to Humpy Dumpy Play School in Crocket, TX. He attended kindergarten and 1st grade at Crockett Elementary. In Cleveland, TX, he went to Southside Elementary for the 2nd - 4th grade. He went through the 5th - 7th grades at San Augustine, and finally to Word of Life Christian School in Lufkin, TX, where he attended 8th - 12th grade and graduated their Valadictorian.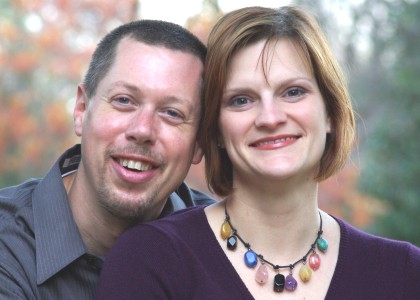 Ricky graduated from Stephen F. Austin State University, Nacogdoches, Texas with a B.S. in Computer Science in 1992. He works for The Tandy Corporation as a Computer Programmer/Analyst.
When Ricky is not working, he enjoys his cats, camping, astronomy, geocaching, riding his motorcycle, and photography.
He enjoys camping, but did not enjoy sleeping on the ground, so he purchased a camper . . . with air conditioner, central heat . . . the works. He says going camping in his camper is the only way to enjoy the great outdoors.
Ricky also belongs to an astronomers' club called The Arcane Astronomers. They have several parties each year where the club gets together and travels to different locations in Texas to enjoy each others company and to gaze at the stars and planets. They also attend the Texas Star Party, held every year in May at the Prude Ranch, in Fort Davis, TX, in the shadow of McDonald Observatory.
One of Ricky's more unusual hobbies is the collecting and repairing of home video game systems as well as classic arcade game units. There is generally some confusion as to what he means by classic arcade game units. He is referring to the old games you could play for a quarter in the arcades back in the early 1980's. He has several in his apartment and has had to get rid of some of his furniture to make room for them.
Another of Ricky's many hobbies is Geocaching. He does this throughout the year with several of his friends. Geocaching is an entertaining adventure game for GPS users. Participating in a cache hunt is a good way to take advantage of the wonderful features and capability of a GPS unit. The basic idea is to have individuals and organizations set up caches all over the world and share the locations (in the form of a longitude and latitute) of these caches on the internet. GPS users can then use the location's coordinates to find the caches. Once found, a cache may provide the visitor with a wide variety of rewards. All the visitor is asked to do is if they take something, they should try to leave something in it's place. If you would like to learn more about this fun hobby, go to http://www.geocaching.com.
Ricky also enjoys purchasing old cameras and taking lots of pictures of different things. His latest purchase was a View Camera.
As if Ricky did not have enough to keep him busy, he decided he needed another "Big Boy Toy". He purchased a Yamaha Classic Motorcycle, and is on the road whenever the weather allows him to be out enjoying his bike. He has also purchased another, older motorcyle, so that he could get some enjoyment out of tickering and working on a bike.