History
Michael
Michael was born in Athens,Georgia on November 16, 1970. The U. S. Forest Service had assigned his dad to a new location for work. We were waiting for Michael to be born so we could move to Crockett, Texas. When Michael was only 2 weeks old, we had all of our belongings shipped to Texas and we traveled by car to our new home.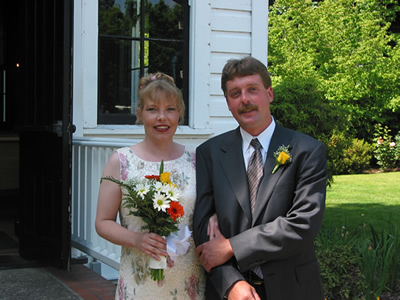 Michael has lived in nurmous cities in Texas. He lived in Athen, Georgia for only two weeks, . In December, 1970, we moved to Crockett, Texas, in 1974, Cleveland, Texas, in 1978, San Augustine, Texas, and in 1982, Lufkin, Texas. Michael has been a Texan most of his life but now considers himself an Oregonian.
Michael attended Kindergarten through 3rd grade at Southside Elementary in Cleveland, TX. His 4th - 6th grades were at San Augustine Intermediate School in San Augustine, TX. For 7th - 12th grade, he attended Word of Life Christian School in Lufkin, Texas
Michael attended Angelina College in Lufkin, TX, before he was married.
Sylvia
Sylvia was born in Lufkin, Texas on March 12, 1971. She attended Redland Elementary and Coston Elementary, Junior High West, and Lufkin High Schools in Lufkin, Texas.
New Family
Michael and Sylvia married in Lufkin, Texas on June 12, 1993 in First Baptist Chuch of Keltys of Lufkin TX. The honeymooned in Colorado, visiting several different place there. Their main address while honeymooning in Colorado was Estes Park. They took up residence in Beaumont, Texas, where Michael attended Lamar University.
While attending Lamar University, Michael worked for PetSmart. Sylvia worked for Johnson's Green Houses as a supervisor. She learned a lot about plants and how to grow them while working for Johnson's.
After a year at Lamar, Michael decided he wanted to live and work in the Great Northwest. He did some research on Colleges in the Northwest and found out that Oregon State has the best Engineering School in the area. He applied and got accepted at Oregon State in 1996. Michael got a transfer from his job, PetSmart, to Salem, Oregon. Sylvia quit her job and they moved to Salem. Michael waited until they had lived in Oregon for a year so he could get resident status to attend Oregon State. Sylvia went to work for Corneliussen's Nursery.
Michael graduated with his BS in Civil Engineering in June of 2001. He went to work for Tenneson Engineering Corporation (http://tennesoneng.com/index.htm) as a Structual Engineer on October 1, 2001.
Michael and Sylvia are outdoors people. They fell in love with Oregon and all it had to offer in the way of hiking, camping, and going to the coast. It didn't take them long to buy some hiking boots and camping gear, and they jumped right into enjoying their new home. There are too many hiking trips to mention but some of their favorite hikes have been climbing South Sister and Mt. St. Helens.